Should I use BoilerJuice, brokers, oil syndicates and clubs or deal direct with Goff to get a great heating oil price?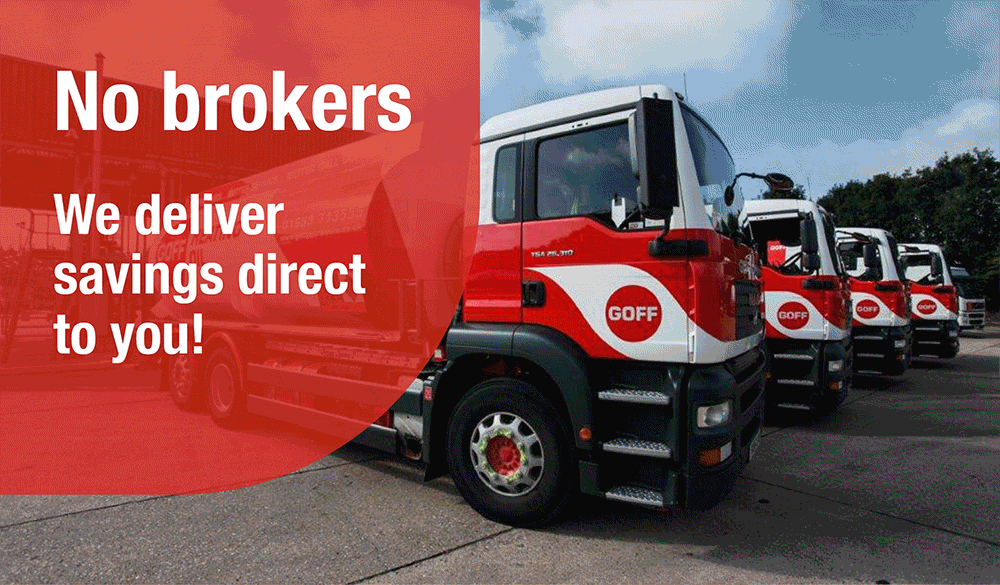 Why deal direct with Goff?
Goff Petroleum is not a virtual distributor or online only business, nor is it a comparison website, oil order aggregator, buying agent, farming group or oil club. We are a real oil business with storage depots throughout East Anglia and South East England and we have been delivering kerosene to domestic oil tanks for over 50 years
We have a well-earned reputation for offering an exceptional, friendly, and efficient fuel delivery service from our local depots, whether you choose to order your heating oil through goffpetroleum.co.uk, or by speaking to your local depot team.
If you're looking to order heating oil online through a website such as BoilerJuice, Fueltool, HomeFuelsDirect, Value Oils, or Oil Club, it's worth knowing that these are NOT heating oil distributors. They are companies, or agents, who advertise a service that they then outsource to real oil distributors.
Before you order your heating oil it might be both cheaper and better to order direct with Goff rather than order online via a price comparison website such as BoilerJuice or and order aggregator such as Oil Club:
Brokers & Agents - a few points to consider:
• Commission
You will pay a premium in the cost of the fuel to cover the commission charged by the order taking website platform. The largest brokers, such as Boilerjuice, are also adding platform and service charges of at least £3.99 per order hidden in the order process; all for passing your order to a real distributor. So it is often cheaper to buy directly from your local distributor which you can do either over the phone, or online (when our offices are closed) with Goff. In early 2022 BoilerJuice increased their service charge again to nearly £10 per order.
• Middlemen
You should be aware that price comparison websites are not oil suppliers. They do not actually own any fuel, hold any stock, or have drivers or tankers to make a delivery to your home. If they use cartoon images of tankers and people on their website it's because they do not have any real tankers, delivery drivers, or depot staff to complete your order.
• Confidence
If you have a tricky heating oil delivery, or you are placing your order in times of high demand you may not receive your brokered delivery in good time or on occasions, at all. If you place your order direct; you are a Goff customer not a 3rd party one. At Goff we understand the importance of customer loyalty and making your delivery our priority.
• Relationship
At Goff, we strive to build long lasting relationships with all of our local customers, from all our depots, throughout our delivery areas. All our staff pride themselves on being able to offer consistently competitive prices whilst delivering a premium quality product coupled with a friendly and professional service. This focus has earned us a 5* Trustpilot rating and #1 Heating Oil Supplier ranking.
By dealing direct you cut out costly middleman and complexity to gain confidence and control.

For a better price and better service,
you are better to buy direct.
Goff are here to deliver a great heating oil price and professional service direct to you.