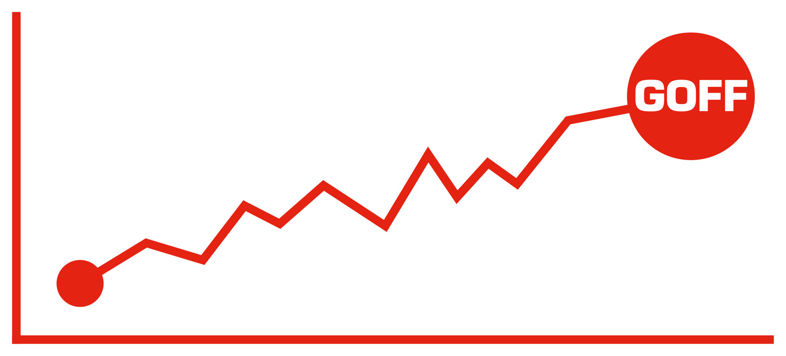 Goff Heating Oil Market Price Information
Oil Market, Exchange Rate and Heating Oil Price Information November 2020.
Brent Crude Dated ($ per Barrel)
Price at Start of Month: $36.54 Price at End of Month: $46.35
Highest Price in Month: $47.06 Lowest Price in Month: $36.54
Pound £ to US Dollar Rate $ Exchange Rate FT:
Start of Month: 1.2910 End of Month: 1.3350
Kerosene (Heating Oil) Cargo Price $ per tonne
Start of Month: $309.00 End of Month: $401.00
Highest Price in Month: $406.00 Lowest Price in Month: $309.00
Resulting in a Heating Oil Price (Pence Per Litre) Monthly range: 4.90 ppl
Market Commentary:
It's a month of market moves driven by the US Election, a potential vaccine and the debate over the short-term supply and long term future of oil.
Oil prices soared by 10 percent and WTI Crude topped $40 a barrel on Monday morning, after vaccine developers announced 90-percent efficacy of a COVID-19 vaccine candidate, instilling hopes on the markets that life could soon return to normal.
As of 9:38 a.m. ET, WTI Crude prices were surging by 10.37% at $40.92 and Brent Crude was soaring by 9.02% on the day, at $43.01.
Oil jumped and followed other markets globally on Monday after Pfizer and BioNTech said that their mRNA-based vaccine candidate, BNT162b2, against SARS-CoV-2 demonstrated evidence of efficacy against COVID-19 in participants without prior evidence of SARS-CoV-2 infection.
The vaccine candidate was found to be more than 90% effective in preventing COVID-19 in participants without evidence of prior SARS-CoV-2 infection in the first interim efficacy analysis, the companies said. Pfizer and BioNTech plan to file for Emergency Use Authorization (EUA) to the U.S. Food and Drug Administration (FDA) soon after the required safety milestone is achieved, which is currently expected to occur in the third week of November.
After months of setbacks on vaccine development by pharmaceutical companies, the markets, including the oil market, cheered the news of the effective vaccine candidate, hoping that a vaccine could soon allow a return to pre-coronavirus way of life and travel.
Oil prices were also supported by a weakening U.S. dollar and Joe Biden's victory in the U.S. election this weekend, which boosted appetite for riskier assets and removed the election uncertainty from the market.
Saudi Arabia also jawboned oil prices higher earlier on Monday as Saudi Arabia's Energy Minister, Prince Abdulaziz bin Salman, said that the current deal could be tweaked, in the clearest signal that OPEC+ is seriously considering such a move.
"I would go and argue it could be a tweak even beyond what the so-called analysts are talking about," Prince Abdulaziz bin Salman told the ADIPEC conference, as carried by Reuters.
By Tsvetana Paraskova for Oilprice.com 9th Nov 2020
Oil may hit $50 over the next few months thanks to a moderate decline in global inventories that will accelerate by mid-2021, the chief executive of Vitol, Russell Hardy said as quoted by Reuters.
Oil prices have trended higher this week after Pfizer announced its vaccine candidate for Covid-19 had shown a 90-percent efficacy rate during late-stage trials. However, the sample of study participants the company looked at for this rate of efficacy is quite limited, at 92, to draw any major conclusions.
Still, the immediate and strong reaction of oil prices to the news shows just how important positive news about the pandemic has become amid surging cases, lockdowns, and a rising death toll.
Crude oil benchmarks added as much as 10 percent following the Pfizer news. Oil prices were also supported by a weakening U.S. dollar and Joe Biden's victory in the U.S. election this weekend, which boosted the appetite for riskier assets and removed the election uncertainty from the market.
Further support for prices yesterday come from the Energy Minister of Saudi Arabia, Abdulaziz bin Salman, who said the OPEC+ production cut deal could be "tweaked".
"We did tweak and I believe with consultation with our friends, some of them are present here and some of them are not, but I know how heartily they are committed to the principle of tweaking," bin Salman said at the ADIPEC conference on Monday.
"I would go and argue it could be a tweak even beyond what the so-called analysts are talking about," he added.
Vitol's Hardy's remarks come after earlier this month he said he expected the second wave of Covid-19 infections to remove about half a million bpd in oil demand in Europe. Hardy said at the time he expected global demand to average some 96 million bpd during the winter.
By Irina Slav for Oilprice.com 10th Nov 2020
The major participants at ADIPEC 2020's ADNOC Trading Forum expressed a wide range of sentiment, but the general message was one of caution or even outright pessimism when it came to oil price movements. The Virtual Conference, which was held in Abu Dhabi, was dominated by three main topics, the impact of COVID-19, global oil and gas demand destruction, and the U.S. election results. With a wide range of speakers including representatives from Abu Dhabi's national oil company ADNOC, the major storage company VITOL, Japanese company ENEOS, Abu Dhabi Global Markets (ADGM), and OMV amongst others, the forecasts for 2021 were plentiful and varied. The main takeaways for observers were that markets may be growing increasingly optimistic about a COVID recovery, but oil prices are unlikely to see a real recovery before the end of 2021. Oil market fundamentals are very weak at the moment and even if a COVID-19 vaccine is produced, the impact on fundamentals will be slow. Furthermore, any oil market recovery could easily be halted by a change in the strategy of OPEC+ or any other supply increase before demand picks back up. According to Energy Intelligence, Platts and Argus, the overall expectation for oil prices in 2021 is in the high $30s to mid $40s per barrel. In a panel with Martin Fraenkel, Euan Craik, and Alex Schindelar, all three industry leaders agreed that they expected a more optimistic situation in 2022. The three oil analysts emphasized that much will depend on the success of tackling COVID globally and the resilience of the market in the face of a possible supply boost.
Russel Hardy, the CEO of Vitol, argued that 2020 has shown how resilient the hydrocarbon sector still is. Despite the major breakdown of demand due to the COVID-19 pandemic, Hardy claimed that Vitol has been able to ride out the storm and is fully prepared for 2021. While a combination of negative prices, demand destruction, and a storage glut means that a return to normal is still a long way away, an industry recovery is well and truly underway. Kajo Fujiwara, the Executive Officer of Crude Trading and Shipping for Japanese company ENEOS emphasized that "work continued even in COVID time". He said that was particularly difficult as a state of emergency had been put in place in Japan as its refineries were forced to cut, exports decreased and margins were very low. The company's investment plans were also altered as several projects were delayed. In H2, however, ENEOS saw refinery runs increase and signs of demand recovering.
When asked about ADNOC Trading, Khaled Salmeen, the Executive Director, stated that the company "has not stopped doing what we wanted to do….we wanted to go strong on trading and we are as ADNOC Global Trading is going to go live in the coming weeks". When asked about the impact of COVID on trading, Salmeen stated that for his company it had been an opportunity, as working on risk management and pricing has allowed the company to become more resilient. ADNOC Trading is developing well, with the crude book having gone live in September and the products book via Global Trading set to go live in the coming weeks. ADNOC is now starting to train and support the next generation of traders in the UAE. An ADNOC Trading official added that ADNOC Trading plans to set up representation internationally, including in the U.S. As well as trading, Salmeen confirmed that ADNOC Trading is also looking at entering the shipping space. ADNOC has always been an FOB seller. Shipping is now going to be a major part of the company. The cost of both second hand and new vessels in the current climate is extremely attractive for those with capital.
Overall it was a mixed takeaway from the event. COVID is once again hovering over markets with a second round of lockdowns in the EU, and price volatility has increased. For some, such as Hardy, real optimism could return to markets in H1 2021. There doesn't seem to be any significant demand increase set to take place in winter and even if a COVID vaccine is produced, the real impact won't be felt in the market before end H2 2021. At the same time, all participants agreed that the OPEC+ strategy is one of the major factors to watch. Vitol expects normal stock levels by Summer 2021, but even that will depend on OPEC+ strategies. New additional production, such as from Libya or Iran, could set markets back. A return to normal stock levels would see prices rising at the end of 2021. Hardy is cautiously optimistic but admits that it all depends on a continuous flow of "good news". The Vitol official expects oil prices to recover to the high 40s or even the 50s in H1 2021, although any demand reduction would hurt that prediction.
When asked about Biden, Hardy said that any U.S. supply response would be price related. He stated that if Biden rejoins JCPOA and Iranian oil flows again, prices will be hit hard. He doesn't expect the Biden Administration to have much of an impact on U.S. shale production though. While new regulations would impact production by increasing overall costs, the sector itself is largely non-political.
Even the oil and gas situation in Asia remains unclear. According to ENEOS' Kajo, the COVID impact is still very much being felt. While the economies have suffered less than their western country parts, the impact on demand is still tangible. She said that China's demand is healthy, but other countries such as Japan and India are still suffering. In Japan, refining margins are still suffering as JET demand is very low, and export markets are yet to recover. When asked about a possible Peak Oil demand scenario in Japan, the ENEOS official said that COVID has moved it forward dramatically.
By Cyril Widdershoven for Oilprice.com 10th Nov 2020
For those who have been transfixed on oil demand forecasts over the last eight months, the recent news that Pfizer's Covid-19 vaccine is 92% successful likely came with a renewed hope that oil demand will finally tick up and bring the industry out of the doldrums in which it has been languishing since the start of the pandemic.
The lockdowns are to blame for the loss in oil demand. And now, invigorated with the possibility that this new vaccine will allow people to resume their normal way of life - air travel, dining out, and shopping - the price of crude oil is rising.
They are expecting oil demand to recover - and fast - and not even the news of a slew of additional lockdowns that go into effect this week is dampening the bullish oil spirit.
Hold Onto Your Bulls
The reality is, however, Pfizer's vaccine - which hasn't yet received FDA approval - won't be available to the masses for months. Oil bulls may want to strap that truth on.
And while it certainly looks promising, the vaccine needs to undergo a rather rigorous approval process, and it is by no means a sure thing. If it were a sure thing, they'd skip the approval process and move forward.
What to Expect
That's not to say that things aren't looking promising in the longer term. But we are most definitely talking about the longer term.
In the short term, we have a new round of lockdowns sweeping the globe that includes Sweden, New Jersey, and New York - all of which have varying degrees of restrictions on activities. Most of those restrictions involve eating out and going to bars. Some include more restrictions on private gatherings.
These most recent restrictions on our way of life are just the latest. Last week, Austria, France, Germany, the UK, and Portugal all began implementing a wide variety of restrictions that will no doubt compound the oil demand problem.
And while a vaccine is looking likely, things may not move as quickly as some are expecting. Below is a rough timetable of how the vaccine is expected to progress.
1) Safety
With efficacy now established, Pfizer must next establish safety, which comes after two months of tracking. This is to establish the likelihood of side effects. That two-month marker will come on November 16.
2) Emergency Use
Next, Pfizer must apply for emergency use authorization from the FDA. This allows Pfizer to skip over some of its study that is required for traditional approval. This isn't typically a fast process. The FDA will deliberate in a public meeting to determine if the emergency use will be granted. It is very likely that this emergency use will only be granted for high-risk individuals such as those with co-morbidities and perhaps healthcare workers. There is no estimate, really, on how long this will take. The FDA has merely said that it plans to be quick.
3) Emergency Use Rollout
The good news is, Pfizer has already started to manufacture its Covid-19 vaccine, banking on an approval. This saves a lot of time. However, there are still limited quantities available during this stage, and the emergency use authorization does not cover everyone. Therefore, the initial rollout of the vaccine will be to a small number of people, who will then be tracked to ensure there are no other side effects that emerge.
4) The First 25 Million People
Pfizer has stated that by the end of the year, it will have 50 million doses available. It will likely start trickling in at the end of November or the beginning of December. That 50-million figure is good for 25 million people because each person must receive two doses. Whether this 25 million is used up in the emergency use portion of the process or whether some of it is left over for the full rollout is unknown. But either way, at most, 25 million people—worldwide—will receive the vaccine in 2020. At less than 0.3% of the world's population, this isn't going to make even the smallest dent in activity levels and hence, oil demand.
5) The next 1.3 billion doses
That brings us to 2021 when Pfizer expects to have 1.3 billion doses available, which means that 650 million additional people will be able to get vaccinated next year. Of course, this does not factor in other vaccine manufacturers such as Moderna, which announced on Wednesday that it was ready to begin analyzing interim data it amassed during its study, although we're talking about just 53 cases. Other countries, too, may produce a viable vaccine. The U.S., the UK, Canada, Japan, and other European countries have already put their order in for millions of doses from Pfizer. In fact, just this week, it was revealed that the EU made a deal to purchase 300 million doses—for less than the U.S. will pay. This also means that those 650 million people will be spread across the globe—and across 2021—negating the possibility that any single location would be able to return to normal.
Many people likely heard Dr. Fauci say that the rest of the world may have the vaccine in April. But he's referring to when the vaccine would start to be available to everybody, not that everyone would have it available. In fact, Dr. Fauci has said that it might take well into the second or third quarter of 2021 to even convince people to take it.
In other words, everyone should buckle up because oil demand isn't going to snap back in January or even in Q1.
When Will Oil Demand Perk Up?
If you're listening to Reuters market analyst John Kemp, we won't see oil demand pick up for another six or even twelve months.
"Coronavirus vaccines are expected to boost international passenger transportation and oil consumption, but the first significant impact will not be felt until well into the second half of 2021, based on futures price movements on Monday," Kemp said in a commentary on Monday.
This view is likely shared by OPEC, which released its MOMR on Wednesday. In it, OPEC forecast that oil demand will fall this year 300,000 bpd more than it thought last month. OPEC also said that this weak demand would continue into next year. Cutting next year's demand outlook as well, OPEC now sees 2021 oil demand 300,000 bpd lower than it thought last month. This means it sees 2021 oil demand at just 6.2 million bpd over 2020 levels, and still under 2019 levels.
Why So Glum?
"These downward revisions mainly take into account downward adjustments to the economic outlook in OECD economies due to COVID-19 containment measures, with the accompanying adverse impacts on transportation and industrial fuel demand through mid-2021," OPEC said in its MOMR, adding that the oil demand recovery "will be severely hampered and sluggishness in transportation and industrial fuel demand is now assumed to last until mid-2021."
Regarding a Covid-19 vaccine, OPEC had few words. "Further support, currently unaccounted for, may come from an effective and widely distributable vaccine as soon as 1H21. However, further downside risks to the current growth outlook may stem from ongoing challenges due to Brexit, rising geopolitical challenges in selective regions, unexpected repercussions from quickly rising global debt levels, and mounting social unrest in some countries as a consequence of COVID-19 and rising inequality."
In other words, OPEC at least believes that the vaccine may help to boost oil demand at some point in 2021, but there are a whole host of other challenges that may dent the economy - and therefore oil demand - next year.
What Say the IEA?
The IEA on Thursday released its own vaccine-oil-demand bombshell, saying that oil demand is unlikely to see any substantial increase from a new vaccine - even one that starts to be distributed in a limited capacity at the end of this month - until well into 2021.
"It is far too early to know how and when vaccines will allow normal life to resume. For now, our forecasts do not anticipate a significant impact in the first half of 2021," the IEA said, adding that "The poor outlook for demand and rising production in some countries ... suggest that the current fundamentals are too weak to offer firm support to prices."
And while the market largely ignored OPEC's pessimistic view of the vaccine's effect on oil demand, the IEA's prognostication did not go unnoticed; in the early morning hours on Thursday, oil prices started to sink.
By Julianne Geiger for Oilprice.com 12th Nov 2020
Oil is on the rise after a third company developing a vaccine for Covid-19 announced positive efficacy results this week. They may well continue to rise for a while, but it would pay to be careful with betting on an endless rally. Yesterday, after AstraZeneca said its vaccine candidate had 90% efficacy in some cases, oil benchmarks jumped to the highest in three months as traders rushed to build their positions ahead of the rebound that should logically follow a successful vaccination campaign.
Fund managers also went on a buying spree, Reuters's John Kemp said in his weekly column. The total purchases made in the most traded crude oil and product contracts over the last two weeks reached 539 million barrels, Kemp noted, which was the highest since the start of September.
The buying spree is not limited to oil, either, and analysts are taking note. The Bank of America last Friday said traders have swarmed into riskier assets after the two vaccine updates from Moderna and Pfizer, pouring $27 billion in to equity funds and shares in the industries that were worst affected by the pandemic, including energy, banking, and travel.
But the bank cautioned against too much optimism: "We say credit and equity prices (are) to peak in coming months on peak positioning, peak policy, peak profits as optimism tops ahead of vaccine distribution," the analysts told BofA clients.
Indeed, the higher oil—and stock—prices rise on this vaccine-prompted bullishness, the more vulnerable they become to a correction. Reuters' Kemp noted this in his column, and bank analysts have warned about it in notes to clients.
The problem seems to be that traders are buying the vaccine efficacy news, but efficacy—and safety—is only the beginning. Swift distribution is another major aspect of a vaccine's success, and the scale of vaccinations is another. The process, which the head of the U.S. federal government's vaccination program said could begin in early December, would take at least several months until vaccinations are mass enough to make a difference to the so-called new normal.
In other words, it will be at least several months before oil demand picks up in a way that would be meaningful for prices over a period longer than 24 hours. That is, of course, if there are no serious side effects from the approved vaccines that could wreak a whole new kind of havoc on oil—and other—markets.
Meanwhile, OPEC+ is contributing to the bullish sentiment by signaling it would extend its current rate of production cuts into 2021, although it remains to be decided how long the extension will be. The cartel is meeting next Monday and Tuesday to discuss the issue.
News from China is also supporting prices this week: Bloomberg reported the country has started drawing down its oil inventories as domestic demand picks up and imports decline because independent refiners have used up most of their import quotas. China's inventories were a cause for concern among oil traders when they were running near capacity, so the news of a drawdown has been welcome.
Right now, the going is good for oil. Pharma companies are bound to continue providing updates, and these are more likely than not to be positive. The rally could last a week or two if OPEC+ decides on an extension of more than three months. But it will likely come to an end when traders get a reality check, which is bound to happen. Air travel will not return to pre-pandemic levels overnight. It won't return to normal over a fortnight, either. It will take months.
The sooner market players accept this fact, the less likely a major oil price slump caused by spooked traders would be.
By Irina Slav for Oilprice.com 20th Nov 2020
Additional Oil Market commentary & Market Data available from the BBC here: Market Data
The Office for National Statistics record the price of heating oil and publish monthly updates on the average delivered cost of a domestic delivery of 1000 litres of kerosene in the UK . The information held by the ONS is freely available online and can be found here: ONS Price of heating oil