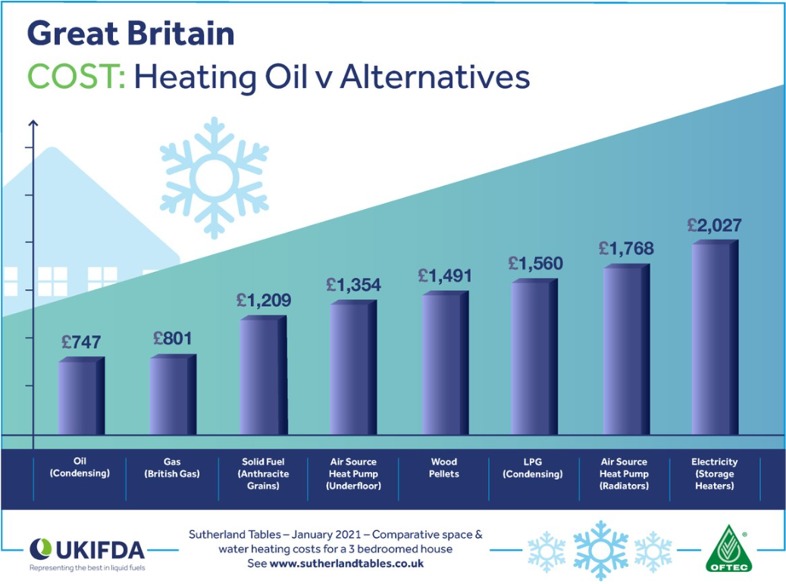 Its official - there has never been a better time to be on oil. Independent figures from Sutherland Tables and shared by UKIFDA now show that Heating Oil is the cheapest of all home heating and energy sources.
According to their tweet
"If you use #oil in a condensing #boiler to #heat your #home ~ your #heating costs are down by between 28% & 39% when compared to last January"
Oil heating for the average three bedroom house in the UK now costs just £747 according to Sutherland Tables, the recognised independent source of data on comparative domestic heating prices in the UK. This makes oil £54 cheaper than mains gas, the second cheapest option with an annual average heating bill of £801.
When oil is compared with the other main heating methods used by rural homes, called off grid because they are not connected to the gas pipeline network, the savings are even greater. Oil is more than 1/2 the price LPG (Liquid Petroleum Gas) and 1/3 of the cost of night storage heaters.
With the cost of heating an average three bedroom home in Great Britain with an oil condensing boiler being only £747 it now means oil fired central heating systems are:
7% cheaper than mains gas.
1/3 cost of electric night storage heaters.
Half the price of wood pellet systems.
Over £1000 cheaper than Air Source Heat Pumps.
Making oil substantially cheaper to run than any traditional or renewable heating option.
The fact that Heating Oil still offers reliable, efficient and most importantly cost effective domestic heating is great news for the UK's 1.5 million oil using households.
With prices forecast to remain low for the foreseeable future, we suggest that households currently using LPG or electricity should consider a switch to oil as, even allowing for the cost of a new oil boiler and tank, the move would provide considerable savings over the lifespan of the installation.
Whilst renewables and alternative fuels are often promoted as "cost effective solutions for a clean green future", the true costs of green fuels for the domestic user are substantially higher than suggested by these renewable heating solution providers.
Goff Petroleum continues to ensure its customers get the best possible heating oil price and delivery service, from an experienced team with a wealth of product and technical knowledge.