No Heating - Common System and Boiler Issues
From time to time mechanical devices cease to function correctly. To minimise the potential for this to occur we recommend that oil fired central heating systems are serviced every year by an OFTEC registered heating engineer. This service should include the testing of the safety systems, checking the efficiency of the boiler, monitoring the health of your oil tank and draining off any build up of condensation within it.
Annual servicing, tank draining, and the regular replacement of filters is the most cost effective way of ensuring that your oil supply is clean, your oil tank is in good condition, and your boiler is operating most efficiently. Failure to adopt a proactive approach is most likely to result in a system that at best runs inefficiently, and at worst lets you down in mid winter when you need it most.
Unfortunately we should also remember that a boiler unit cannot go on forever. It does have a lifespan, and will one day have to be replaced. A modern boiler is more likely to be more efficient and economical, and thus will provide some financial compensation for its' initial outlay.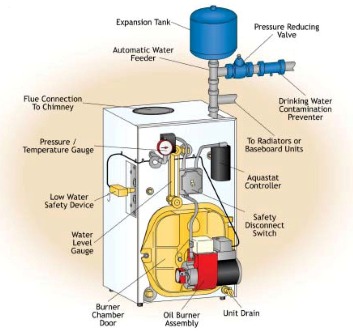 If your boiler does not function a few simple checks can be made before you call your engineer. You can try the following but do not exceed your own ability. If you do not understand what should happen then do not attempt the action because you could simply make your "problem" worse:
No heating checklist
1. Ensure that the boiler is switched on
2. Be sure that the thermostat/s is/are above room temperature so the heating system has "demand".
3. Check that you have oil in the tank. Do not immediately trust the sight tube as it should be switched off and so shows how much oil you had when it was last checked. Many tubes dirty and difficult to read at low levels. If in any doubt physically dip the tank with a garden cane to check that the oil level is above the take off point.
4. Check the feed pipes for oil leaks that may prevent oil getting from the tank to the boiler.
5. Open the bleed nipple inside the boiler and check that oil runs out of it. If no oil runs through you may have an air lock which requires bleeding out. Always retighten the bleed nipple and clean any oil released before attempting to start up
6. If the boiler has "locked out", re-set the lock out button on the boiler and try to fire the appliance again. Do not do this too often, as abuse of this button could further damage your appliance.
7. Check to see if the flame comes on. A sound like burning could merely be the system pump priming itself and subsequently failing to fire. If no flame is seen by the flame sensor, the problem probably lies with the ignition system, or the flame sensor itself. If a flame appears and then dies soon after the problem probably lies with the oil feed, e.g. a broken/failing fuel pump.
8. If the boiler appears to be completely dead, check for a blown or loose fuse.
If you have tried all or some of the above and the boiler still fails to fire call your normal engineer urgently. If you do manage to get your system going then we would still recommend that you ask your engineer to attend to professionally identify and rectify the cause of the failure.
Remember Safety First
No warranty or representation, express or implied is made as to the accuracy or completeness of the data and information contained in this web page. It is the user's obligation to evaluate and use this product safely and to comply with all applicable laws and regulations concerning such. No statement made in this page shall be construed as a permission, recommendation or authorisation given or implied to practice any of the above. George J. Goff Ltd shall not be responsible for any damage or injury resulting from the above, or from any hazards inherent in the nature of the material and the appliances used to burn it.
Thank you to Anglia Heating Solutions for their assistance in preparing this piece.