Oil prices soared on Monday, with Brent crude posting its biggest intra-day percentage gain since the Gulf War in 1991, after an attack on Saudi Arabian oil facilities on Saturday shut about 5% of global supply.
Saudi Arabia is the world's biggest oil exporter and the attack on state-owned producer Saudi Aramco's crude processing facilities at Abqaiq and Khurais has cut output by 5.7 million barrels per day. The company has not given a timeline for the resumption of full output.
A source close to the matter told Reuters the return to full oil capacity could take "weeks, not days."
Saudi Arabia's oil exports will continue as normal this week as the kingdom taps into stocks from its large storage facilities, an industry source briefed on the developments told Reuters on
"We think the attacks would be a wake up call for investors, who have failed to price in risk within the price of crude. Although global supply will contract in the near term, the United States has the ability to supply this contraction," said Hue Frame, managing director at Frame Funds in Sydney.
"With developments over the weekend, market participants will add additional factors when working out the fair value of crude on top of the usual supply and demand factors."
U.S. President Donald Trump said he approved the release of oil from the U.S. Strategic Petroleum Reserve (SPR) if needed in a quantity to be determined due to the attack.
The attack on plants in the heartland of Saudi Arabia's oil industry, including the world's biggest petroleum-processing facility at Abqaiq, came from the direction of Iran, and cruise missiles may have been used, according to a senior U.S. official. Initial reports indicated the attack came from Yemen.
Trump also said the United States was "locked and loaded" for a potential response to the attack on Saudi Arabia's oil facilities.
"A geopolitical risk premium will return to the oil price," said Alan Gelder, vice president for refining, chemicals and oil markets at Wood Mackenzie.
"This attack has material implications for the oil market, as a loss of 5 million barrels per day of supplies from Saudi Arabia cannot be met for long by existing inventories and the limited spare capacity of the other OPEC+ group members," he said.
Saudi Arabia is set to become a significant buyer of refined products after the attacks, consultancy Energy Aspects said in a note.
Saudi Aramco will likely buy significant quantities of gasoline, diesel and possibly fuel oil while cutting liquefied petroleum gas exports.
U.S. gasoline futures rose as much 12.9%, while U.S. heating oil futures rose by as much as 10.8%. China's Shanghai crude oil futures rose to its trading limit, gaining 8% at the open.
Meanwhile, Saudi Aramco has told one Indian refinery there will be no immediate impact on oil supplies as it will deliver crude from other sources and has adequate inventory, a source with the refinery said.
U.S. President Donald Trump said on Sunday the United States was "locked and loaded" for a potential response to the attack on Saudi Arabia's oil facilities, after a senior U.S. administration official said Iran was to blame.
Trump also authorized the use of the U.S. emergency oil stockpile to ensure stable supplies after the attack, which shut 5% of world production and sent crude prices soaring more than 19% in early trade on Monday, before moderating to show a 10% gain.
Tuesday Market Update:
Oil prices are trading higher once again this morning as traders continue to buy oil following the major attack on Saudi Aramco's key crude processing facility on Saturday morning.
However, the trading is not as aggressive this morning following measured comments from President Trump. Saudi Arabia has declined in importance to the US compared to twenty years ago due to two facts: 1. The Pentagon believe the attackers who flew the plans into the Twin Towers on September 11th came from the Kingdom of Saudi. 2. The US is no longer dependent on imports of Saudi Arabian crude oil. The US now imports less than 5% of it's needs from from Saudi.
Last night President Trump said that "he has not promised protection to the Saudi's but would certainly help them." He added that "he is not looking to get into a new conflict but sometimes you have to." Mr Trump went on to say that "he is in no rush to respond to the attacks, oil prices have not risen too much in the wake of the attacks on the Saudi oil plants." With regard to the emergency reserves, President Trump said that the US can release oil and bring prices down but other countries could "be a little more generous".
In summary, we believe the US regard this crisis as "not their problem," and they consider that Saudi has failed to safeguard their key assets and are reluctant to get involved.
To find out more about heating oil prices click here, or to get an online quote click here. At Goff, our team constantly check prices to ensure we're giving you the best price possible for your home heating oil.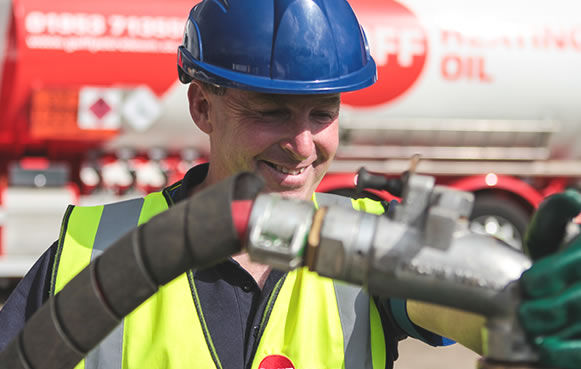 Source: BBC News & Fuelpricesonline