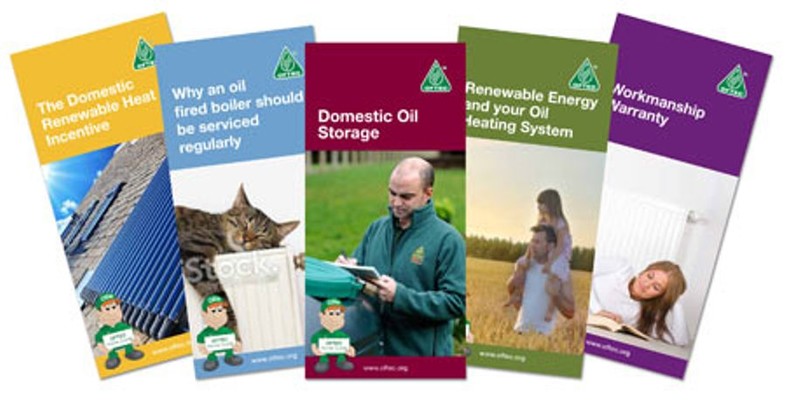 OFTEC publishes a range of home guides and useful information for users of heating oil. They cover a range of topics including installation, servicing and maintenance, energy efficiency and combining oil with renewable heating systems. The free downloads are avaliable here:
Domestic Oil Storage
Guide to domestic oil storage tanks (up to 3,500 litre capacity) and their location for supplying heating oil to a single family dwelling.
Flues, Chimneys and Ventilation
Guide for the Flues, Chimneys, and Ventilatoin requirements for any domestic oil-fired appliance used in the home.
Domestic Oil Supply Pipes
Guide which applies to Domestic Oil Supply Pipes and pipework systems supplying kerosene to oil-fired equipment (under 45kW output) serving single family dwellings
Domestic Oil Fired Appliances and Systems
Overview of all Domestic oil-fired appliances and systems including the general principles relating to them
Renewable Energy and your Oil Heating System
Guide explaining how Renewable Energy and Oil Fired Central Heating can be integrated to reduce your carbon footprint.
Why an oil fired boiler should be serviced regularly
Detailed information on the need for regular Servicing and advice on the risk from carbon monoxide in the home.
Workmanship Warranty
The outline of the OFTEC engineer's Workmanship Warranty and advice on what to do should you have a problem and the original installer is no longer trading.
Renewable Heat Incentive
Information about the Renewable Heat Incentive for the off grid domestic energy user.
Landlord Oil Installation Check
Factsheet produced to clarify the Landlord's Requirements in rented accommodation with oil fired central heating.
Goff Petroleum recommend Anglia Heating Solutions, our local OFTEC registered company for installation, servicing, and maintenance, of oil fired boilers, and for safe, cost effective tank replacement.
Source: Oftec Oil Heating Home Guides