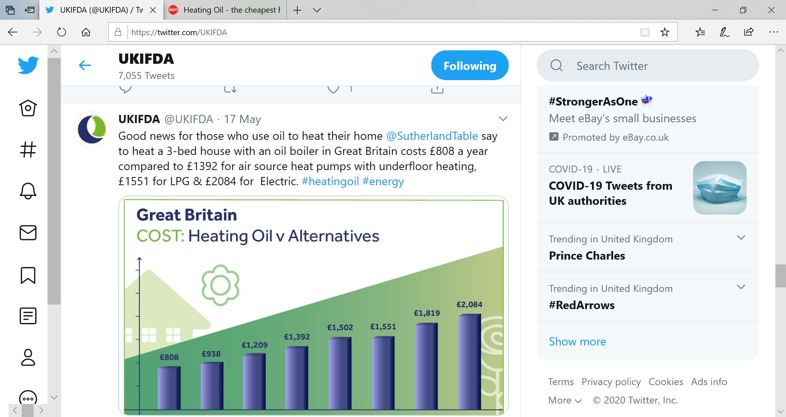 The latest figures from the Sutherland Tables (UK Independent source of data on comparative UK domestic heating costs) recently tweeted by UKIFDA show heating oil remains by far the cheapest of all major home heating fuels.
The cost of heating an average three bedroom home in Great Britain with an oil condensing boiler is only £808 per year. This is going to reduce further as the oil price crash, caused by Covid-19, feeds into the figures.
The latest independent data shows that a 3-bed house with an oil boiler in Great Britain costs £808 a year compared to £938 for gas boiler, £1392 for air source heat pumps with underfloor heating, £1551 for LPG, £1819 for air source heat pump with radiators & £2084 for Electric.
This means Heating Oil is:
£130 cheaper than Mains Gas
Nearly half the price of LPG
A staggering £1276 cheaper than electric storage heaters
Over 50% cheaper to run than even the cheapest renewable heating option.
And with the Oil Market falling hard in the first 1/4 of 2020 the opportunity exists to halve your heating costs again with prices that have not been seen this century.