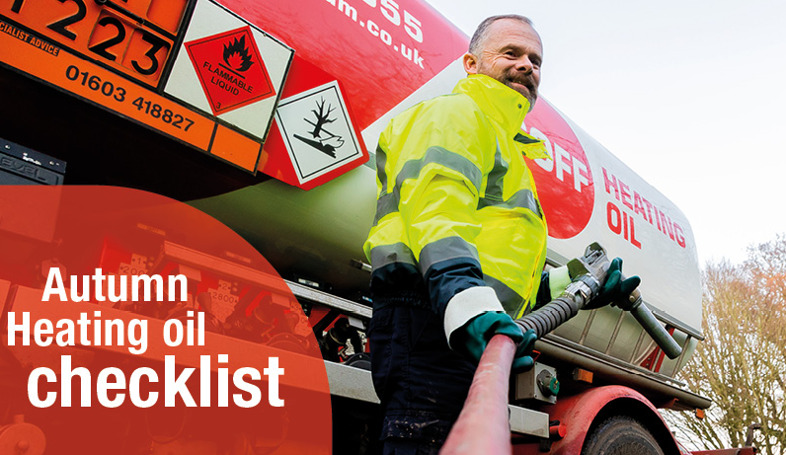 In the UK the majority of heating systems are turned on in October, and heating oil customers with oil fired boilers are no different. Planning is key for all of us living in the countryside, so a quick check of our heating oil tank and central heating system should prepare us all for the shorter days and colder nights.
Is your boiler or Aga fighting fit this Autumn?
Has your boiler had its annual service and safety check? A little tender loving care goes a long way to reducing the chance of breakdowns. A service will ensure your system runs at peak performance, meaning you get the most from your heating oil stock, and also reduces the risk of potential carbon monoxide issues.
Healthy Tank
Is your tank fit too? When clearing away the Autumn leaves take a little time to check your heating oil tank and the area around it. Clear away any debris, weeds or overgrown plants from the immediate oil tank area, and make sure the path to the tank is clear for you and the delivery tanker driver.
With the area clear you can check a metal oil tank for rust, or a plastic tank for signs of damage or cracking. Make sure the pipes, filters, and fittings, including any locks, are in good condition and free of leaks. If you have any concerns then get the opinion of a professional. Speak to an OFTEC qualified engineer to see if it needs repairing or should be replaced. Finally check your oil level because it may be:
Time to Top Up
After the clocks go back prices tend to rise and delivery times get longer as the Autumnal cold bites. This Autumn heating oil prices are good so why not make the most of this by topping up before the demand, and disruption, of Winter kicks in.
So let's:
Service Boiler
Clear Tank
Check Oil Level
Order Top Up
And kick the Winter worries away