Goff Heating Oil Pay Monthly Plan
At Goff we understand that there are many demands on your household budget and to assist have created the Goff Pay Monthly Plan.
The Goff Pay Monthly Plan enables you to you to spread the cost of your heating oil, and at the same time build up a balance to use for future orders.
We've created this to make affording your future heating oil costs easier and more manageable. Our savings plan is flexible and personal to you and your circumstances, giving you total control of what you save and when.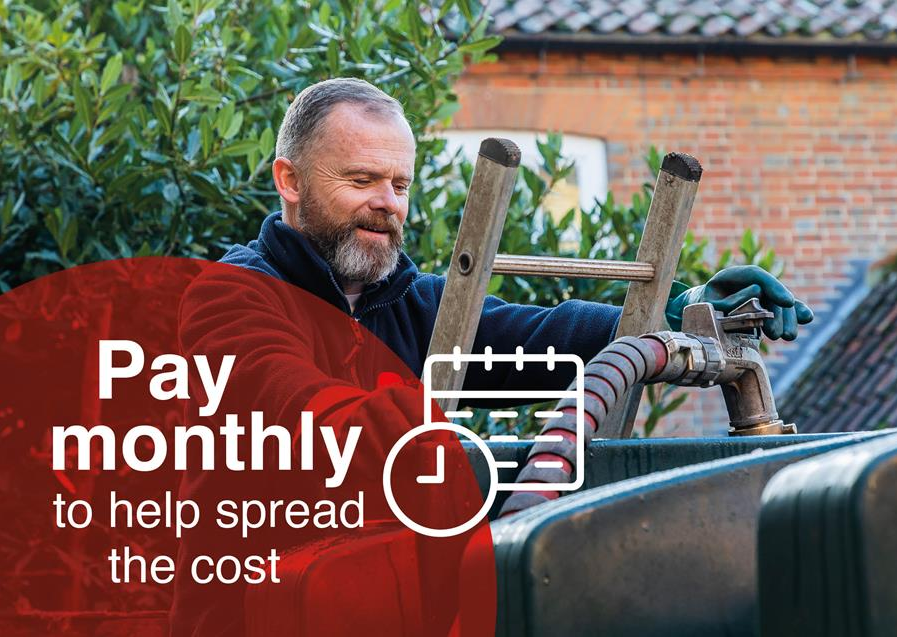 Starting your Pay Monthly Plan
It couldn't be easier; choose a monthly amount that suits you, or we can help you understand your consumption pattern, so you know which plan would work best for you.

Call us to request a direct debit mandate.

You can then start to accrue your savings reducing the impact of purchasing heating oil in the future.
As a thank you, we will credit your account with a bonus £25 once your third direct debit has been paid into your account.
Our schemes benefits include:
Free to join with no hidden costs.
Flexible; you can adjust the amount if needs change.
Payments from just £40 per month.
£25 free credit just for signing up.
Examples
Mr & Mrs Smith use about 1800 litres per year and like to order once, normally in the summer, to ensure they have enough oil to see them through the winter.
They like to put £40 a month into their plan via direct debit so that when they need the annual tank top, they use their savings to date to supplement this order; helping ease the stress of one larger payment.
The Jones Family like to spread all their household costs by paying monthly. They decided to start a plan having just had a delivery.
They use 1,500 litres a year and they have chosen to pay £75 a month into their account by Direct Debit. If they order 500 litres every 4 months on average, they would have built up a credit of £300 towards the cost of their next order, easing the burden.
For a Better Price, Better Service, Better Use GOFF
Should you have any queries or wish to discuss your Budget Scheme the Accounts Team is on hand Monday to Friday, 8am until 5.30pm. You can call us on 01953 713555, email us at [email protected] or download the pack and post them to us at:
Goff Petroleum Accounts Team, Stanfield Road, Wymondham, Norfolk NR18 9QY.
*Ts&Cs: This offer is only valid on our Saving Plan. Minimum monthly direct debit spend of £40. A £25 credit will be applied to your heating oil account after three months. This £25 credit can only be used towards heating oil and is non-refundable. This offer cannot be claimed against buying group/syndicate orders. This offer cannot be used in conjunction with any other offer and is not avaliable for online orders. Subject to status and availability. Management have the right to withdraw this offer at any time.