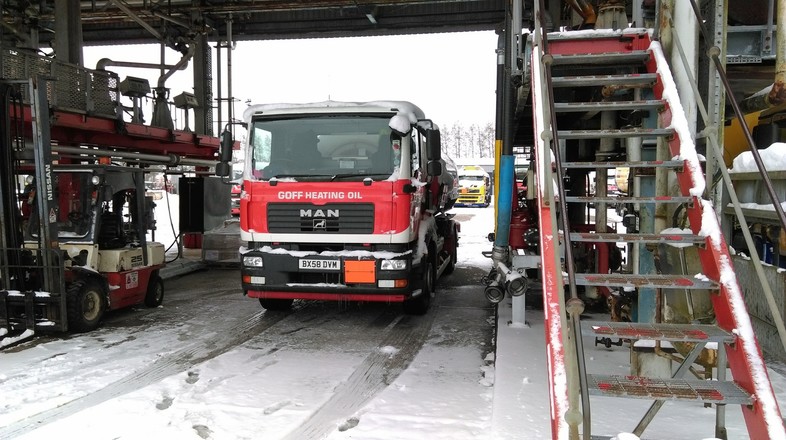 Goff Petroleum Extreme Weather Notice: Delivery & Operation Status 8th March 2018
On 28th February 2018, in response to the weather conditions our senior management team had no option but to trigger our Extreme Event Operations Plan. We continue to run under that plan.
While the weather conditions have now improved, we are still working hard to get deliveries out to customers. Some rural roads are still inaccessible which is inevitably causing some continued delays to deliveries.
All our depots have fuel in stock to distribute. Stocks are low, but all available fuel is being moved as strategically as possible to ensure that depots remain stocked. Supply of heating oil is limited by shipping delays. Terminals or distribution points with stock are now experiencing significant loading delays.
The emergency operations team have not stopped working and supporting the vehicles on the road. They are constantly rescheduling orders and dealing with customer enquiries. The continued safety of our drivers and staff is paramount.
We continue to experience exceptional call demand in our offices and requests for information via email. We appreciate that you may be calling to check the status of your order or trying to place a new one. If you have placed an order, we will endeavour to contact you ahead of the delivery, but please bear with us as we are attempting to deal with a significant backlog of calls and enquiries.
Our offices are open and fully staffed, but our telephone lines and communication channels have been overwhelmed by the increase. To assist us we would greatly appreciate if your communication can include your postcode, first line of your address, customer ID number if available, and name the order has been placed under. Enquires through social media cannot be answered. We are currently attempting to address requests for information made on Tuesday and working through these in receipt order.
Tomorrow we intend to attempt a further 1250 deliveries. The majority of our fleet are now working in unfamiliar areas to support the depots most impacted.
If your order was placed during the past week, the lead time you would have had communicated, typically 12 working days, is still the lead time we are working to. If your order was placed before then, please be assured we are doing all we can to get to you as a priority. A tanker in your village may not have your order on it. If you have an order outstanding please keep access to your tank available. We will continue to try to advise our customers with oustanding orders of the intended delivery attempt, by text, email, or phone, when the order is scheduled.
We would like to apologise to you as a valuable customer for any delays the recent extreme weather conditions may have caused, and assure you that the Goff team have worked tirelessly to minimise any disruption to our usual standards. We thank all our customers and suppliers who have been supportive to us during this difficult period. This was, and is, greatly appreciated by us all.
Issued 13:30 8th March 2018