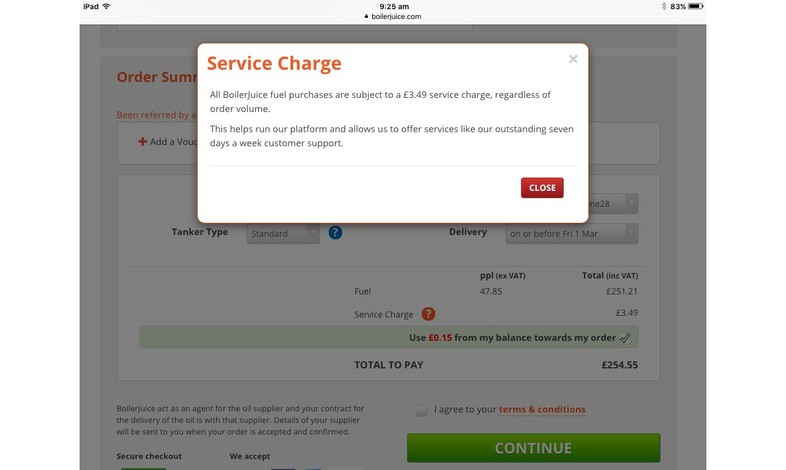 BoilerJuice increase service charge on every order
Just 18 months since Boilerjuice.com introduced a £2.99 service charge to all orders, they have now taken the bold step to increase it.
The charge has increased by another 50p to £3.49 on every domestic heating oil order and means that Boilerjuice could be earning an extra £1 million every year from it's customers by charging them to place an order on their platform and then handing that order to a real distributor to deliver.
Why are Boilerjuice charging customers to process their orders?
When the service charge was first introduced on BoilerJuice's website in September 2017, it was justified as a charge for running their sales platform and for supporting their customers. It has now been increased to support their continued investment in technology and provide "outstanding" customer service support.
Some online fuel brokers are very critical of the use of a service charge. A competitor in the online market, Fuelz, believe it's because
"Boilerjuice realise that most people only look at the price per litre, so it's best to show a cheaper initial price, then add in the service charge." They also believe that this tactic "allows Boilerjuice to reduce their pence per litre cost shown by around 0.6p" so confusing the true cost of the fuel and making their headline price appear the cheapest to increase their chances of securing the order."
They go on to explain in the article that they believe it is because Boilerjuice has fallen out with the fuel suppliers they need to deliver the fuel they are taking commission on.
"Another reason for the change is that boilerjuice and fuel distributors have been going through a rocky patch in terms of their relationship. This coupled with the seasonal cold snap has meant many suppliers are no longer giving favourable pricing to boilerjuice and some not giving pricing at all. This left boilerjuice unable to fulfil orders in the run up to Christmas."
As a real fuel supplier, with local depots, we will do our best to beat Boilerjuice on price and service. Ordering direct cuts out both the comission Boilerjuice charge their supporters and the service charge they levy on their customers.
Being a real fuel distributor rather than a online broker means we have fuel tankers operating from depots with heating oil in stock to deliver and people to talk to about any issues you may have. We value your business direct over that of any broker chasing commission and we focus on serving our customers not other peoples.

By delivering from our lorries to your tank we can put the savings in your pocket, rather than putting pounds of commission and charges into the pockets of middlemen.